How to Deposit and Withdraw USD via Silvergate on Binance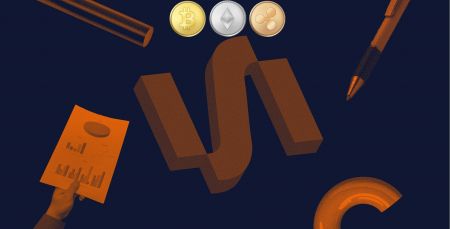 Bank Deposit via Silvergate
Binance launched a brand new fiat funding option Silvergate for international users, allowing them to deposit and withdraw funds(USD) via using the local bank accounts.
The new service is only available to users after they complete their KYC.
Deposits will need to be made in USD via a SWIFT transfer to Binance Silvergate bank account in the U.S, and you will be credited with BUSD at a 1:1 ratio. The deposit and withdrawal transaction fees per wire for SWIFT transactions are 10 USD and 30 USD, respectively. For example, if you send $1,000.00, your Binance account will be credited with 990 BUSD.
You can easily perform international bank transfers using most banking apps and online banking options. However, if you have never sent money abroad, you can contact the forex department at your local bank for assistance.
Deposits made early in the day and during regular banking hours are usually reflected on the same day.
Please note
that all forex conversion rates are determined by the financial institution you use and not by Binance. If you need any assistance with the transaction, the local forex division of your bank will be able to easily assist - but in most cases, this can easily be done yourself via your online banking portal.
Follow the simple instructions below to deposit your USD:
Step 1:
Ensure you have completed the KYC on your Binance account.
Step 2:
Navigate to the "Buy Crypto" dropdown menu, and select USD as the currency. You will now see Bank Deposit - Swift Bank Transfer. Select this option( shown below).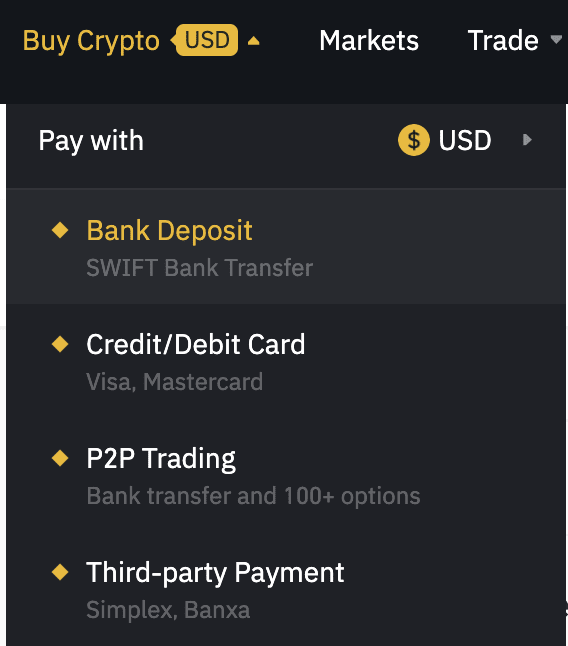 Step 3:
Select Silvergate Bank (SWIFT) and input the amount (in USD) that you wish to deposit, and select continue


Step 4:
Complete the deposit using the banking details provided to you. Ensure that you include the unique reference number. Once your deposit arrives, it will be credited to your fiat and spot wallet as BUSD and can be viewed under fiat deposit history( as shown).

Bank Withdrawal via Silvergate
Step 1: Ensure the amount you wish to withdraw available in the form of BUSD in your Spot Wallet.

Step 2: Navigate to the Wallet tab at the top of your screen, and select Fiat and Spot from the drop menu (shown below).



Step 3: Select Withdraw, Fiat and select USD as the currency (shown below). Now simply input the amount of USD you wish to withdraw to your bank account, from your available BUSD balance.



Step 4: You will now be prompted to input the account details of the bank account you wish to withdraw the funds to. Once you have indicated these details, confirm the withdrawal.

**The funds will now reflect in your account within 1-4 business days. All foreign exchange conversion rates are determined by the bank you utilize, and there may be additional fees incurred by these institutions for processing Swift transactions.

**For more information contact the local forex department of your bank.


FAQ of Deposit and Withdraw USD via Silvergate
Silvergate is a new payment method. It allows international users to deposit and withdraw funds (USD) via their local bank accounts. Please note Silvergate
only supports SWIFT transfers.
SWIFT(Society for Worldwide Interbank Financial Telecommunication):

 
SWIFT is a global messaging network used to securely send and receive information, such as money transfer instructions, between banks and other financial institutions.
Frequently Asked Questions:
Q: Ive deposited more than my current limit and received only a portion of my deposit. When will I receive the remainder of my deposit?
A: The remainder will be credited in the following days. For example, if your daily limit is 5,000 USD and you deposit 15,000 USD, the amount will be credited in 3 separate days (5,000 USD per day).
Q: I want to deposit through bank transfer, but the transfer status is showing "processing" instead of "successful" or "failed". What should I do?
A: You have to wait for the final results of your account verification. If approved, the corresponding deposits will be automatically credited to your account. If your account verification is rejected, the funds will be returned to your bank account
within 7 business days
.
Q: Id like to increase my deposit/withdrawal limits.
A: Please go to the Identity Verification page and upgrade your KYC level by providing a valid proof of address (POA) and other required personal information.
Q: Ive made a deposit through Silvergate but forgot the reference code.
A: You will need to copy the
 

reference code

 
shown on Binance payment instruction and input in the fields such as "Reference or "Remarks or "Message to Receiver in your bank payment form when making a transaction. Please note that some banks may name this field differently.
Failed in inputting a reference code will cause unsuccessful transactions. And you may raise a CS ticket with your Proof of Payment showing your account name so that we could check the transaction manually and then credit your funds.
Q: I tried to deposit using Silvergate, but the name in my bank account doesn't match the name in my Binance account.
A: Your deposit will be refunded to your bank account within 7 business days.
Q: I tried to deposit using an ACH or a US domestic wire transfer through Silvergate.
A: Silvergate
only supports SWIFT transfers
. Your deposit will be refunded to your bank account.
Q: I tried to withdraw using a SWIFT transfer, the status shows the transaction was successful, but I haven't received the withdrawal.
A: SWIFT is for international transfers, and the transfer time can be affected by different regions. It may take up to 4 business days for your withdrawal to arrive.